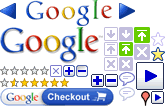 My last post was about finding inspiration from the news.
Here's how to find the spark that ignites a new work of fiction on Google. Or more precisely Google searches.
Click on the title of this post to go to writer Tim Challies' blog where he reconstructs a sad story from one surfer's search
. If you're inspired, you don't need access to confidential information from AOL; not when you can imagine it...